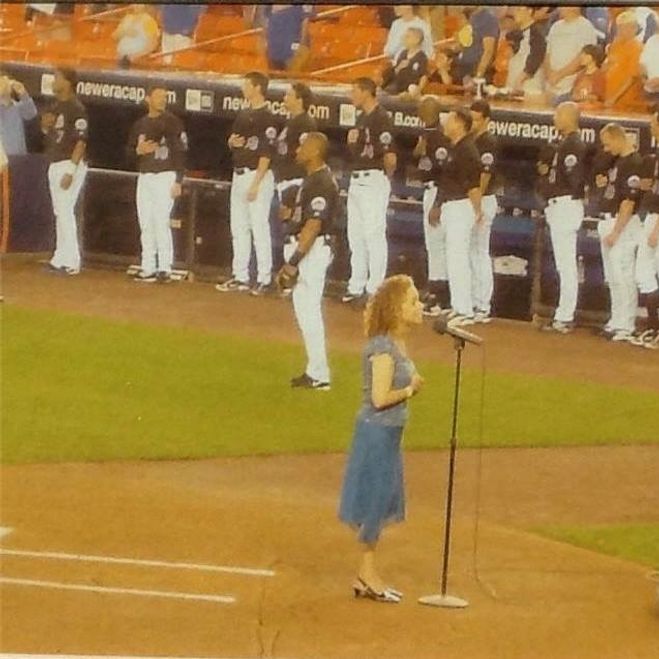 ELIZABETH ROSE
LONG STORY SHORT
Music may be serious business to Elizabeth Rose but a sense of humor is definitely essential in her highly entertaining world.  Take one look at her body of work:  Her gift for combining songs, comedy and commercial appeal is clear.
Born into a musical family with professional connections that stretch from Name That Tune  to David Letterman, Rose learned early on that singing and playing guitar wouldn't just happen around the campfire.  Blessed with a voice big enough to deliver the National Anthem for the NY Mets, the six string and keyboard skills requisite to compose and do voices for TV (Nikelodeon, PBS Kids, Discovery), film (Sex and The Other Man, starring Stanley Tucci)  and theatre, she's equipped to provide musical messages to the world.  Her one-woman musical comedy, Relative Pitch, was produced Off Broadway by NY's renowned Cherry Lane Theatre's Mentor Project. Past lives include touring with the Broadway cast of Beatlemania on keyboards.  On the blues scene, she led her fiery guitar trio, played and recorded with blues legend, Pinetop Perkins.  Her song, I'm Too Beau'ful (For You) was featured in Elmore Magazine's list of "Top 20 Women Empowerment Songs – Ever!"  She produced and hosted Mosaic, an arts show on educational TV in the Midwest.  Her hilarious music video Leave Me Alone, was honored by Emblem Health's Caregivers Organization and distributed to hundreds of its members.  It starred her 96-year-old mother, Gerry Rose, who did comedy bits on Letterman. 
She is the composer of a new stage musical in development and she's finishing the edits on a documentary of a holocaust survivor, Saba's Story, that she wrote and shot. A member of the Board of Directors of the Society of Composers & Lyricists, she continues to create programs and musical collaborations that highlight women in music and foster diversity.  As Co-Chair of the SCL SongArts Committee, she created and led the SCL's Global SongDemic, a songwriting collaboration to energize members at the outset of the pandemic.  This collaboration, which paired songwriters from 4 continents, has developed into bi-annual SCL Global Songwriting Collaborations – a highly popular and fun project.  
Rose released two singles on 2/21/23: "Maya Angelou (Songbird)" and "Burning The Candle At Both Ends."  Several more releases are planned for late spring & summer '23 including songs from her Happiness Project, inspired by the need for uplifting during the pandemic.  The first song in this project, The Set Aside Song, features musical luminaries like Steve Gadd (drums), Tony Levin (bass), brother Bob Rose (guitar), husband Don Castellow (baritone sax), Michael Blake (tenor/soprano sax), Chris Anderson (trumpet/flugelhorn) & Rusty Cloud (co-producer, arranger & keyboards).  The song and accompanying music video is projected to be released in the summer of '23.
As an author, her memoir, Yo Miz! (1 Teacher + 25 Schools = 1 Wacky Year) won multiple publishing awards.  She's been a featured guest on PBS's To The Contrary," Good Morning Washington" as well as big market national radio.  At last, her seventh-grade teacher, Mr. Guinta, achieved his dream, to wit: "I can't wait to see you on TV so I can turn you off."