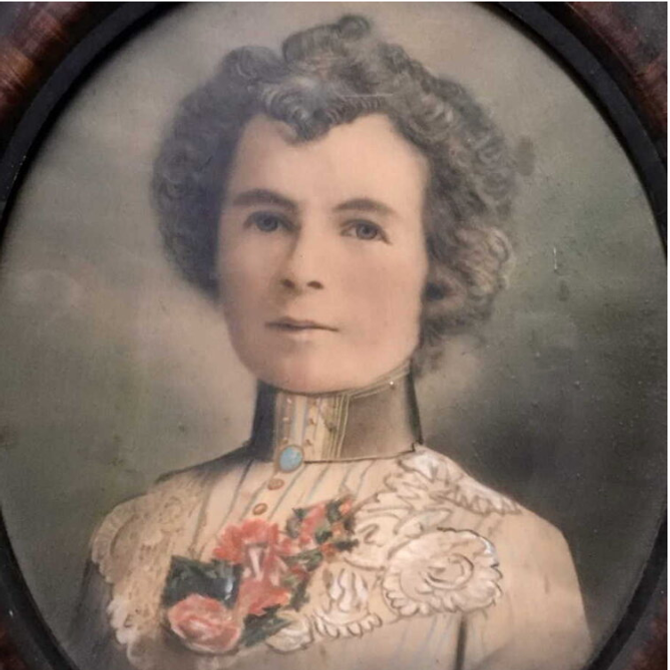 Meet My Grandmother
The suffragette...
SARAH GORNEY
Sarah Gorney, a recent immigrant, was featured as one of the "Young Women Anxious to Vote" in the Boston Globe in 1902. She was the first vice president of the Young Women's Political Club, an early women's suffrage organization created by and for working women.
Sarah was from an Orthodox Jewish family that had immigrated to Boston from the Ukraine, then a part of the Russian Empire, in about 1890 or 1892 to flee from an impending pogrom (attack against the Jews by the Cossacks). In America, Sarah and her family "gradually experienced freedom of speech, freedom from persecution of Jews, and the right to a free education." (Raph)
Like many other Jewish families from Eastern Europe, the Gorneys settled in the tenement neighborhood of the West End of Boston where housing was inexpensive. Her father was a peddler undoubtedly with little income at first. Her mother was "quite Orthodox. She baked bread for the Sabbath, lighted candles and prayed at the evening supper…in Hebrew." (Raph) Despite early hardships, her father became a teacher and sent his daughter Sarah to the Wells Evening School where she probably took classes in dressmaking and in civics with lawyer and activist Ida Estelle Hall.
Shortly after Sarah and her classmate Rose Alfowich graduated from night school in 1898, Ms. Hall could have persuaded the two of them to join the new Young Women's Political Club, a league of the Massachusetts Woman Suffrage Association that she had helped found as the "superintendent among working women" for the MWSA.
At work during the day, club members learned about trade unions and other labor issues. At night, they learned about "governmental rights and the liberties that these imply." Sarah was a salesperson for a florist before practicing her newly learned trade as a tailoress and skirtmaker. Her friend Rose may have worked in her brothers' cigar making business.  
Their teacher Ms. Hall was impressed. "One has an idea that women of the old world are kept in the background by the men, but [their]…grasp upon public affairs is astonishing."
Sarah was not one to be kept in the background or live a life of servitude to her husband. At the time of the 1902 article, Sarah was engaged to a young man who believed in equal suffrage, Louis Raph, who was a store keeper for a stationery business. She soon married and had a family, while also working in the store, leaving little time to devote to activism. "She had gradually built up a candy store in include ice cream, fruit, some canned groceries, and over the counter medications. She helped neighborhood people whom she knew with medicine and other remedies. Many of the neighbors (Italians) came in at night who played guitar and sang." Her son, at age 9, sold Italo-American newspapers to factory workers at the back door where they exited on their way home from work.
The Raph family would eventually move to New York. Time passed, but lessons from the Wells Evening School and Young Women's Political Club must have remained with Sarah throughout her life. Although she did not attend college, she sent her daughter Ruth to law school…wearing clothes that she had made for her using dressmaking skills she had learned in the West End.
Sarah Gorney's great granddaughter Lynne Spevack writes, "In so many ways, I reaped the benefits of Sarah's work as a suffragist; seeing my grandmother Ruth work, I took it for granted that of course, women had careers and their own money and bank accounts, although I was coming up at a time when the New York Times still separately listed jobs for men and women."

REFERENCES
ancestry.com
"Theodore Raph Compilations." Interviews with Sarah Gorney's son, Theodore Raph, by his wife Jane Beasley Raph, May 1989 and Jan 1992, courtesy of Lynne Spevack, Sarah Gorney Raph's great-granddaughter.
Spevack, Lynne. Email, 2020.
"Young Women Anxious to Vote," The Boston Globe, May 5, 1902.